Botox
Botox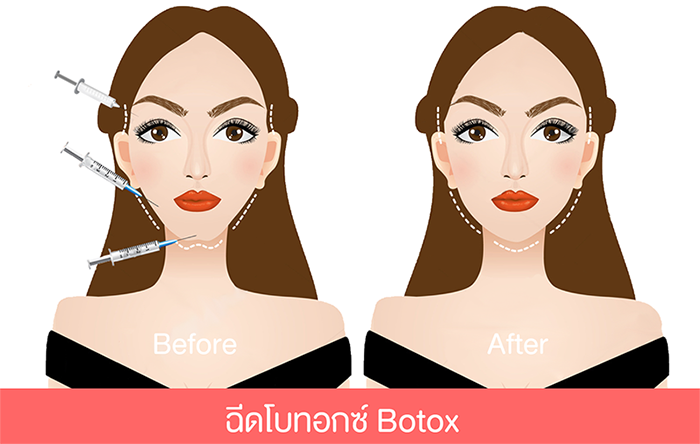 Botox is the trade name of a substance Botulinum toxin is a neurotoxic protein produced by the bacterium Clostridium botulinum and related species. Botox injection is very popular. Can reduce the crow is feet and reduce the size of the face. Because it is a quick way to see results faster, short recovery period.
How does Botox active ?
Botox or botulinum toxin prevents the release of neurotransmitter. acetylcholine From nerve endings to nerve endings and muscles. Helps shrink muscles. Relax muscles As a result, can reduce wrinkles. Helps skin look younger.
Botox treatment should be performed by qualified medical professionals because it is very important to get the right amount in the right area. To avoid asymmetric results. Maneuvering of muscles, hardening and dangerous expressions may occur. Past 6 months later function of botox will be stops and then muscle will have normal function, wrinkle can come back again.
Area can inject botox
Frown Lines
Forehead lines
Crows feet
Eyebrow lift
Lower eyelid wrinkles
Lip corner
Chin
Calf
Step of botox injection
Botulinum toxin is administered by diluting the powder in saline and injecting it directly into neuromuscular tissue. For minor muscle take time for affect around 3-7 days but in major muscle (calf) take time for good effect around 6-8 weeks. Botulinum toxin should not be used in pregnant or lactating women, or by people who have had a previous allergic reaction to the drug or any of its ingredients.
Prepare before botox injection
Do not drinking alcohol at least 3 days before treatment
Please stop all vitamins and herbs such as vitamin E, garlic, pills and oils, such as liver oil, fish oil, bran, ivy, rosehip and herbs, ginkgo and NSAIDs such as aspirin at least 2 weeks before injection for prevent bruising and swelling
Do not do skin renewal treatment or scrub or use retinal AHA product, whitening, waxing, etc
Avoid inject Botox injections during pregnancy
Take care after botox injection
Try to exercise your treated muscles for 1-2 hours after treatment such as raising your eyebrows and squinting. This can helps Botox work into you muscles
Stay in a Vertical position and put the ice pack for reduce swelling and bruising
Do not lie down at injection area
Do not put pressure on the treated area, when cleansing face be very gentle
Avoid aggressive exercise on treatment day, just do normal activities